Site Guidelines
To keep Egg Cave safe and fun for everybody, we have created these site guidelines as a more simpler version of our Terms of Service.

The Golden Rule: Respect Others
Respecting people at Egg Cave means being kind and courteous, not harassing them, and keeping your cool in tense situations. The golden rule at Egg Cave is, "Do unto others as you would have them do unto you."
Multiple Accounts
Each person may have 1 main account and 3 side accounts.
Each person may visit and complete daily activities from their main account only.
Shared accounts are not allowed. All accounts must belong only to a single owner.
Side accounts should be used for exactly that: side storage.
Daily activities that should not be completed from side accounts include:

The Cave
The Mysterious Asteroid
Alkub Racing
The Advent Calendar

Completing daily activities from side accounts is grounds for account removal or permanent ban for all linked accounts.
Begging
Begging or asking for creatures, Egg Coins (EC), CaveCash (CC), or stats is not allowed. Examples of begging include but are not limited to:
Can I have your creature?
I'm poor and need EC and CC! Help me!
Your Diablos is amazing! Give me it!
I want a Mo... you have one! Can I have it?
Need stats! Visit my Cove!
Pointless Pings
Pointless pings are pings that serve no real purpose except to confuse and/or annoy those pinged. These pings are considered spam and are not allowed. Here are some examples of pointless pings.
Pinging random people from the Livepulse to your topic
Pinging random people just to get your topic on the Livepulse
Contests or forum games that involve pinging random people
Any ping where you know the user is not actually interested or able to participate in your topic
For example, pinging a newbie to your "Looking for CC/CSP/other rare creatures" topic is just confusing and unfair to the poor newbie.
Trade Center Conduct
The following kind of trading is prohibited:
Trade Center "spamming" where you re-post a trade to stay on the "Newest Trades" page.
Trading for Egg Cave accounts.
Trading for real-life currency or items.
Cross-site trading (trading Egg Cave creatures or items for creatures or items on other web sites).
Using side accounts as temporary, pass-thru accounts for trading.
Scamming Is Not Allowed
Scammers will be banned immediately. Common scams are:
Freezing scam — a user will promise to freeze your creature with Essence of Litsdnats if you transfer it to them. This is how creatures get stolen.
Email scams — scammers may try to gain access to your email so they can use the "Lost Password" form to reset your password. Do not give out access to your email.
Password scams — scammers may try to obtain your password. You should never share it no matter what another user promises you!
Impersonating Egg Cave staff members — Egg Cave staff members will never ask for your password or personal information. All Egg Cave staff members can be identified by the shield () next to their username.
Promising CaveCash — before trading CaveCash, ensure that the precise amount of CaveCash is present in the form of CaveCash Voucher item. This is the only way CaveCash can be securely traded.
Online Conduct
Posting the following kind of content is prohibited:
Spam
Personally identifiable information about yourself (such as phone number, home address, or full name)
Links to harmful websites (cookie grabbers, trojans, viruses, worms)
Links to suggestive, obscene, or pornographic web sites
Links to scam web sites
Links to chat rooms
Any sites that are considered illegal by United States law
Posts containing discriminatory, hateful, sexual, profane, or inappropriate comments
Swear words (allowed words: gosh, stupid, crap, heck, dang, sucks)
Attempting to test or bypass our word filters
Any talk that you would never say in front of or to your parents
Impersonating an Egg Cave staff member
Back seat moderating — use the "Report" button instead
Posts discussing moderator actions taken against your account or another player's account
Attempting to make contact with players that have blocked you
Publicly posting or publishing a list of users that you have blocked
English Only
Publicly posted Egg Cave messages (i.e. forum posts, profile comments, etc) are restricted to English only. This is not to inconvenience our international players but to ensure that the site remains safe for everybody.
Back Seat Moderating
If you have reason to believe that a user is violating any of these guidelines, report them by Submitting a Ticket. There is no need to conduct a personal investigation, gather evidence, and then submit a report.
You will not be penalized for submitting a false report. If something looks suspicious, hit the "Report" button.
Forum Conduct
For more information on forum conduct, see our Forum Rules.
Violation of these guidelines may result in warning, suspension, account removal, or permanent ban.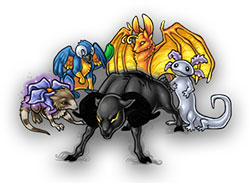 Thank you for reading this page!
These guidelines ensure that everybody can enjoy Egg Cave.